Your Graebener® Production Lines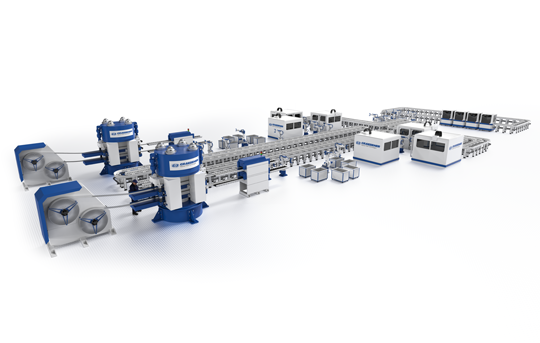 From the Individual Single System up to Scalable Production Line
From our experience as special machine builder, we know that there is no such thing as "the one" system – because technologies and processes change with market requirements. At Graebener® Bipolar Plate Technologies, we endeavor to respond as flexible as possible to present and future requirements of our customers.
Regardless of whether you are looking at a single system tailored to your objectives, a complete production line or an extension of an existing line: In all these cases we are your flexible performance partner and realize your individual production line from coil to welded bipolar plate in close cooperation with you.
Our individual systems: Patented technology
Our patented Graebener® systems for hydroforming, cutting and welding are ideally suited for manufacturing projects with clearly defined goals. Based on your specifications and with regard to the production parameters determined in our application laboratory, you will receive systems perfectly tailored to your needs including the necessary tools for the production of high-quality bipolar plates.
Turn our innovations into your competitive edge: e.g. with our
patented combination of sandwich tool and Graebener® hydroforming press, which allows you to simultaneously form several plates per stroke.
Growth as standard:
With scalable production lines – from coil to welded bipolar plate
Thanks to our many years of experience in mechanical engineering, we are able to develop line concepts that can grow with time. With a view to your increasing quantities or changing component geometries, we develop production lines for bipolar plates that can be scaled precisely and sustainably. The modular design of our lines guarantees a cost-efficient expansion of your production line. From the very start, our concept accompanies you safely into the future.
We determine all necessary process parameters in advance in our Graebener® application laboratory and thus realize a fast start-up of your production lines on site.
As a Strong Performance Partner for the Development of your Bipolar Plate Production, we Offer you the Following Advantages in Close, Constructive Cooperation:
Analysis, modeling and optimization of your bipolar plate design
Tool engineering
Prototyping as well as production of smallest lot sizes and small series in the Graebener® application laboratory
Analysis of the production steps from coil to welded bipolar plate
Determination of requirements of individual production systems and necessary handling and automation systems
Preparation of the technical specifications/specification sheets
Creation of the 2D/3D line layout including installation plan
Analysis of the interfaces between the respective line sections and to the primary control
Preliminary planning of the foundations
Assembly and start-up
After sales service