The Graebener® Application Laboratory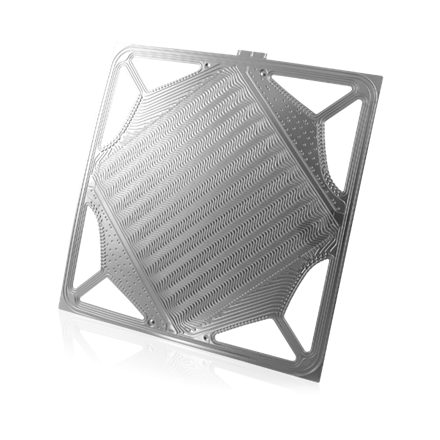 The prototyping: Turning strong ideas into tangible results
In our Graebener® application laboratory we are able to make your ideas tangible even before production. Our machinery used for prototyping is constantly being further developed in view of growing market requirements. Thus, we deliver tangible, high-quality results to verify the manufacturability of your bipolar plate design. To help you decide quickly and cost-efficiently whether your original design or our optimization ideas are actually feasible, this is examined using a selected area of the plate as test geometry – saving you time and money.
For verification purposes, we work with our own especially developed and patented machine concepts – consisting of Graebener® hydroforming presses, Graebener® cutting system and Graebener® welding system – which are ideally suited for a wide range of plate dimensions and materials from a foil thickness of 50 μm and which can realize the narrowest radii.
The pre-buy services:
Production from smallest lot sizes to small series – for ideas that grow in size
Before you take the next step and invest in your own Graebener® manufacturing technology, we would be pleased to support you in the production of your plate within the scope of our pre-buy services – from smallest lot sizes to small series with capacities of up to 50,000 parts per year.
Our quality speaks for itself: so far, we have realized more than 90 customer designs and have produced more than 110,000 parts.
If you intend to set up your own production in the future, the process parameters from our application laboratory can be transferred one-to-one to your own Graebener® lines. From the initial consultation to the feasibility analysis and tooling up to the optimal production, our experience is incorporated into your individual line solution.
From test geometry to small series
What we do for you in the application laboratory: Possibilities, process steps and technical features
Material: Stainless steel, titanium, copper, clad materials; also pre-coated (e.g. Sandvik Sanergy®)
Forming: Plates up to a size of 2,500 cm2 with foil thicknesses from 50 μm
Cutting: Partial and final cuts using laser fusion welding
Welding: Using laser scanner technology
Measuring/testing: Detailed evaluation using microsection and microscopic measurement
Leak tests: 100% leak test of the formed single plate directly integrated in the process;
leak test of all media areas of the welded bipolar plate
Coating: Use of pre-coated material; alternatively desired post-coating carried out by our partners