Extensograph®-E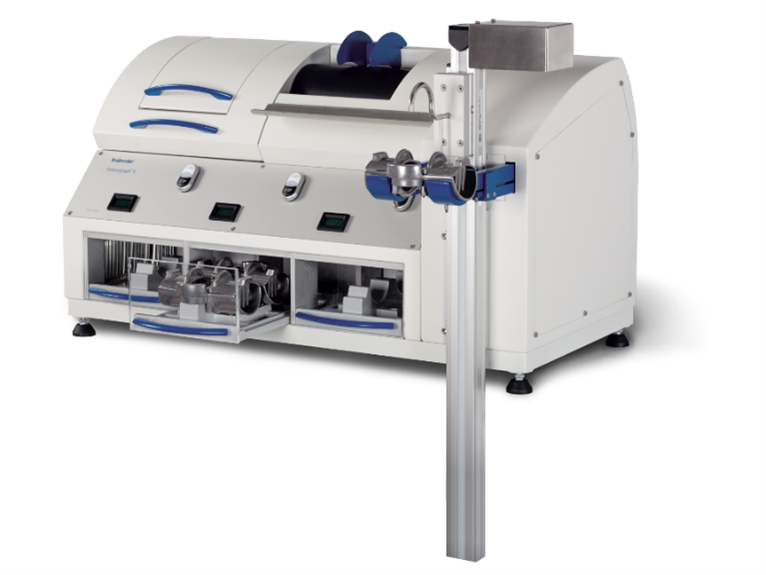 Measuring the stretching behaviour of the dough and baking characteristics
ICC-Standard no. 114/1
ISO 5530-2
AACC Method no. 54-10
RACI, GB/T, GOST R, IRAM, FTWG, and others
Application
Measure the stretching properties of dough with the Brabender Extensograph-E. Criteria like the resistance to extension and the extensibility help to make reliable statements about the baking behavior of the dough.
Like no other instrument, the Extensograph- E shows the influence of flour additives like ascorbic acid, enzymes (proteinases) and emulsifiers and thus permits to determine the rheological properties of each flour and to adjust the "rheological optimum" for the respective purpose.
Principle
Before starting the test in the Extensograph-E, prepare your sample dough from flour, distilled water and salt in the Farinograph. After a certain proving time, the dough is stretched until rupture in the Extensograph-E. The force exerted is measured and recorded. This procedure is repeated three times. This corresponds to the actual practice in the bread and bread roll production.
The Extensogram recorded online and represented as a color diagram on the screen shows the exerted force as a function of the stretching length (time).
The shape of the measuring curve and its variation during the individual proving times, the area below the curve as well as the numerical values of the different evaluation points, allow to make reliable and reproducible statements as to the flour quality and the suitability of the flour for a certain task. Furthermore, the influence of flour additives on the flour characteristics can be made evident.
The Extensogram include:
Resistance to extension
Maximum
Energy (area below the curve)
Ratio number (extensibility/resistance)
Ratio number Db/Max (extensibility maximum/resistance)
Advantages
Long test duration results close to practice
Applicable for all kinds of wheat flour
Determination of the rheological optimum
Optimization of wheat and grain mixtures
Shows the influence of additives
PC connection by USB